| | | | | | |
| --- | --- | --- | --- | --- | --- |
| Quality | Garbage | Bad | Middle | Good | UNC |
| Price ($) | 0.2 | 0.5 | 1 | 1.5 | 2 |
RED FINALS STORY
Probably Turks wasn't the first to come up to put in a package of chewing gum color pictures, but began to do this, could not stop. We have to admit that they have it worked well. Turbo, TipiTip, Finals were on the shelves, distributed very very wide around the all East Europe and ex'USSR.
Producers were many, but the desire to come up with their own copyrights image inserts were fewer – except Tipi-Tip is hard to remember something. The images were taken from different catalogues, posters, brochures, magazines and journals. By the same method was applied at the time and producers from the company Ulker. But they decided not to waste time on trifles, thought they were founded upon the printed material products of the Italian company Panini.
Panini - fairly large and well-known company and its products are very popular all over Europe and beyond. She is known for being one of Europe's largest manufacturer of printed products in the form of stickers.
But story is about the catalog Panini 1986 "World Cup 1986", dedicated to the FIFA World Cup held in Mexico in 1986. Copies of the catalog and its popularity has been quite large, he bought up quite smartly. It was noticed in the company Ulker and released gum Final with wrappers contained reprints from catalog Panini. Reprinted took only the 10 best teams from the catalog Panini. Apparently, it became known in Italy, and probably still the Turks violated copyrights because the release liner has been limited, as evidenced by the number of collection material for persons interested, and they decided left only the first 60 numbers, and the others ceased to produce.

Images should be familiar as they are identical to Panini's Mexico 86 stickers.
Main set consists of 60 wrappers, though the collection goes well beyond those first 60.


---

Final 86 (Red) - Main set
60 wrappers

1. Volfgang Felix Magath (Federal Almanya)
2. Bruno Conti (Italya)
3. Claudio Daniel Borghi (Arjantin)
4. Frankie Vercauteren (Belçika)
5. Brnan Robson (Ingiltere)
6. Javier Aguirre (Meksika)
7. Mark Hateley (Ingiltere)
8. Ramon Caldere (Ispanya)
9. Matthias Herget (Federal Almanya)
10. Falcao (Brezilya)
11. Patrick Battiston (Fransa)
12. Team (Sovyetler Birliği)
13. Danny Veyt (Belçika)
14. Manuel Sarabia (Ispanya)
15. Karl-Heinz Rummenigge (Federal Almanya)
16. Carlos (Brezilya)
17. Yannick Stopvra (Fransa)
18. Sergei Baltacha (Sovyetler Birliği)
19. Manuel Amoros (Fransa)
20. Marco Tardelli (Italya)
21. Ricardo Enrique Bochini (Arjantin)
22. Leo Van Der Elst (Belçika)
23. Kenny Sansom (Ingiltere)
24. Team (Meksika)
25. Ricardo Omar Giusti (Arjantin)
26. Joel Bats (Fransa)
27. Georgi Kondratiev (Sovyetler Birliği)
28. Antonio Cabrini (Italya)
29. Alex Czerniatynski (Belçika)
30. Diego Armando Maradona (Arjantin)
31. Hugo Sanchez (Meksika)
32. Terry Butcher (Ingiltere)
33. Armando Manzo (Meksika)
34. Emilio Butragueno (Ispanya)
35. Harald Schumacher (Federal Almanya)
36. Team (Brezilya)
37. Karlheinz Förster (Federal Almanya)
38. Alexksandr Zavarov (Sovyetler Birliği)
39. Glenn Hoddle (Ingiltere)
40. Pablo Larios (Meksika)
41. Jose Antonio Camacho (Ispanya)
42. Pierre Littbarski (Federal Almanya)
43. Zico (Brezilya)
44. Luis Fernandez (Fransa)
45. Sergei Gotsmanov (Sovyetler Birliği)
46. Aldo Serena (Italya)
47. Eric Gerets (Belçika)
48. Team (Arjantin)
49. Gennadi Litovchenko (Sovyetler Birliği)
50. Oscar Alfredo Garre (Arjantin)
51. Rudi Völler (Federal Almanya)
52. Careca (Brezilya)
53. Michel Platini (Fransa)
54. Oleg Protasov (Sovyetler Birliği)
55. Alessandro Altobelli (Italya)
56. Jan Ceulemas (Belçika)
57. Juan Alberto Barbas (Arjantin)
58. Peter Shilton (Ingiltere)
59. Manuel Negrete (Meksika)
60. Team (Ispanya)

Final 86 (Red) - Extended set

61. Fernando Quirarte (Meksika)
62. Leandro (Brezilya)
63. Rene Vander Eycken (Belçika)
64. Nestor Rolando Clausen (Arjantin)
65. Terry Fenwick (Ingiltere)
66. Rafael Amador (Meksika)
67. Enrique Setien (Ispanya)
68. Hans-Peter Briegel (Federal Almanya)
69. Junior (Brezilya)
70. Dominique Rocheteau (Fransa)
71. Oleg Blochin (Sovyetler Birliği)
72. Team (Italya)
73. Eder (Brezilya)
74. Fulvio Collovati (Italya)
75. Felix Cruz Barbosa (Meksika)
76. Tomas Renoes (Ispanya)
77. Klaus Allofs (Federal Almanya)
78. Toninho Cerezo (Brezilya)
79. Bruno Bellone (Fransa)
80. Anatoli Demianenko (Sovyetler Birliği)
81. Antonio Di Gennaro (Italya)
82. Georges Grun (Belçika)
83. Ubaldo Matildo Fillol (Arjantin)
84. Team (Ingiltere)
85. Miguel Angel Russo (Arjantin)
86. Andoni Zubizaretta (Ispanya)
87.
88. Giuseppe Baresi (Italya)
89.
90. Jose Luis Brown (Arjantin)
91. Ray Wilkins (Ingiltere)
92. Miguel Espana (Meksika)
93. Rafael Gordillo (Ispanya)
94. Lothar Matthaus (Federal Almanya)
95. Casagrande (Brezilya)
96. Team (Federal Almanya)
97. Salvatore Bagni (Italya)
98. Gary Stevens (Ingiltere)
99. Renato (Brezilya)
100. Alain Giresse (Fransa)
101.
102.
103.
104. Oscar Alfredo Ruggeri (Arjantin)
105. Trevor Steven (Ingiltere)
106. Tomas Boy (Meksika)
107. Antonio Maceda (Ispanya)
108. Team (Federal Almanya)
109. Juan Antonio Senor (Ispanya)
110. Jean-Amadou Tigana (Fransa)
111. Jean-Marie Pfaff (Belçika)
112. Gary Lineker (Ingiltere)
113.
114. Hipolito Rincon (Ispanya)
115. Klaus Augenthaler (Federal Almanya)
116.
117.
118.
119.
120. Vincenzo Scifo (Belçika)
121.
122.
123.
124.
125.
126.
127.
128.
129.
130.
131.
132.
133.
134.
135.
136.
137.
138.
139.
140.
141. Socrates (Brezilya)
142.
143.
144.
145.
146.
147.
148.
149.
150.
151.
152.
153.
154.
155.
156.
157.
158. Aleksandr Bubnov (Sovyetler Birliği)
159.
160.
161. Andoni Goicoechea (Ispanya)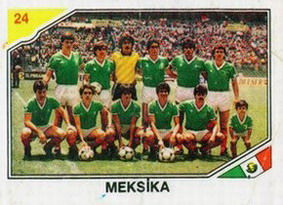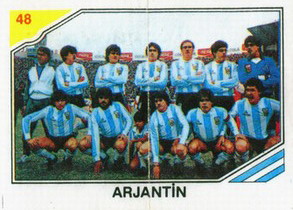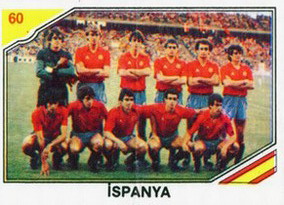 First 60 numbers name-by-name:
Wolfgang Felix Magath, Bruno Conti, Claudio Daniel Borghi, Frankie Vercauteren, Bryan Robson, Javier Aguirre, Mark Hateley, Ramon Caldere, Matthias Herget, Falcao, Patrick Battiston, Sovyet team, Danny Veyt, Manuel Sarabia, Karl-Heinz Rummenigge, Carlos, Yannik Stopvra, Sergei Baltacha, Manuel Amoros, Marco Tardelli, Ricardo Enrique Bochini, Leo Van der Elst, Kenny Samson, Meksik team, Ricardo Omar Giusti, Joel Bats, Georgi Kondratiev, Antonio Cabrini, Alex Czerniatynski, Diego Armando Maradona, Hugo Sanchez, Terry Butcher, Armando Manzo, Emilio Butragueno, Harald Schumacher, Brezilya team, Karlheinz Forster, Aleksandr Zavarov, Glenn Hoddle, Pablo Larios, Jose Antonio Camacho, Pierre Littbarski, Zico, Luis Fernandez, Sergei Gotsmanov, Aldo Serena, Eric Gerets, Arjantin milli takimi, Gennadi Litovchenko, Oscar Alfredo Garre, Rudi Voller, Careca, Michel Platini, Oleg Protassov, Allesandro Altobelli, Jan Ceulemas, Juan Alberto Barbas, Peter Shilton, Manuel Negrette, Espanya team